Our mission is to inspire, enlighten, and provide the very best in content, resources, and professional advice on topics related to vocal performance to a global audience.
The Singer's Newsletter is a vocal tip monthly email publication, geared towards vocalists, performers, musicians, speakers, presenters, and those who work closely with them. It features articles, guest tips from artists and industry, vocal health tips, performance opportunities, resources and recommendations for products and services, and updates on student successes and projects.
Free to subscribers, The Singer's Newsletter started as a simple email in 2002 by recording artist and vocal coach, Teri Danz. It began as a give-back to students to keep them up on technique, performance, and recording issues as well as industry/local events, resources, and performing opportunities. Over the last decade, The Singer's Newsletter has grown dramatically to encompass a large national and international email audience. Our sponsors include Casio, and The Modern Vocalist.
A big thanks to Casio for renewing its sponsorship! Yay! So honored! Casio inspires with amazing keyboards for all levels and its commitment to music education. 

Issue #248 – Available 2/28/23
Here's a sample below.
In This Issue: 
*5 Tips To Sing With Confidence
*New TD Video! #1 Pop Singing Tip To Nail It Every Time
*Music Connection Article
*Global Excellence Award Winner, Vocal Coach of the Year!
*Sponsor Updates, Lesson Specials & Opportunities
5 Tips To Sing With Confidence
Confidence in singing is not just one thing. It's a combination of knowing your voice (and what it can do), believing in and knowing the material, practice, vocal and stage technique, experience, coaching, a need to express yourself, and, of course, just sheer gumption (i.e. bravado!). To build confidence, it's important for you as a singer (amateur or professional) to work to get to a level where you can depend on your voice, and body, and know the correct notes, lyrics, and timing of the song.
Click Here for More! Sign up now to get on the list!!
* Photo: Getty Images for NAMM
NAMM SHOW Issue #240
Artist Signings
Congrats to Ximxia who just got signed to Roller Blaster Records in the UK! Below. Yay!
Students on Billboard Charts 2019
Ximxia – #19 on the Billboard Dance Charts – Congrats to student and singer/songwriter, Ximxia, whose song "Don't Follow Me" hit #19 on the Billboard Dance Charts!! Yay!
Congrats to student Kian Blume! He went from #40 on Billboard Dance Charts to #17!!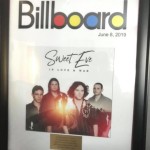 Congrats to Sweet Eve (student Tony Francis)!! #15 on the Billboard hard rock charts!
***
Congrats to former student, Jared Lee, on being a contender and advancing to the semi-finals on American Song Contest 2022!! Yay!! He's an amazing artist and songwriter!! Check him out!
Teri Danz Update:
New TD Vocal Video
Now live!
New! *Global Excellence Award Winner, Teri Danz, Vocal Coach of the Year!
Teri Danz was named one of the Top Vocal Coaches in Backstage Magazine "Sing Out Stronger" article, 6-25-15 Issue (page 21). Danz was also a 2014 Reader'Choice Finalist. 
Teri Danz named one of 2018 Best Singing Teachers from Lessons.com
*Teri Danz quoted in Engadget Article on vocals
Teri Danz Article on The Famous Company website 
*In the News! Click here:
VoyageLA Profile Feature Article!
Check out her book, "Vocal Essentials for The Pop Singer". Five-star review!

Reprint only with permission. All rights are reserved. For more info or vocal/performing assistance, email vocalcoach@teridanz.com. If you have questions or comments, please feel free to email me or take a lesson. Check out more tips on Twitter – twitter.com/tdanz
Sponsor Update – Casio, The Modern Vocalist World
CASIO UPDATE: Casio News!
Check out Casio at NAMM 2023
Casio Privia Keyboard
PX-S7000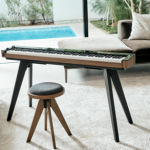 Under the slogan "In Harmony with Life", CASIO presents its new digital piano concept in the form of the Hero Model Privia PX-S7000 in 360° design. Highly innovative and pragmatic, the PX-S7000 presents itself as a contemporary alternative to the traditional digital piano, which integrates perfectly into the interior design of the modern home both visually and functionally.
With over 400 high-quality tones, including three legendary concert grand pianos (Hamburg, New York, and Berlin), it features the New Smart Hybrid Hammer Action keys with spruce sides and a matching beech stand with three fixed pedals. Other features include an LED touch ring, a bright, backlit LCD display for easy navigation, and Illuminated touch sensor controls with assignable multi-function buttons, and there's so much more!
The PX-S7000's beautiful design comes in your choice of Harmonious Mustard, Black, or White.
The main body of the PX-S7000 can be detached from the stand and played anywhere, thanks to its optional 8xAA battery power. Check it out!!

New Keyboards at NAMM 2022 
The new Privia PX-S3100 is a slim, high-performance piano that delivers a harmonically rich sound and a myriad of features that would suit and enhance any singer, singer/songwriter, or musician. If you're looking for a keyboard that has all the best features and an affordable price tag, look no further!
Upgraded from the PX-S3000, a key feature of the Privia PX-S3100 is its slim body, unique among 88-key digital pianos with hammer action. With a depth of just 232 mm, it is meant to fit perfectly in a bedroom, home studio, or on the go. It has Casio's original multi-dimensional Morphing AiR Sound Source which accurately generates the unique resonances of a grand piano. Along with Casio's Smart Scaled Hammer Action Keyboard, you get the feel and weight of a grand piano in a lightweight, sleek version. How cool is this?!  (Editors Note: Singers! A keyboard is a must-have in your toolbox!)
The new CT-S1FH
This keyboard began as a novel idea of applying a colorful design to the speaker fabric and led to this unique collaboration with artist, Romero Britto.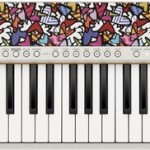 ~Tones, Colors, and Keys~
Art x Music = Joy!
 At the core of the CT-S1, the AiX Sound Source technology produces the true sounds and experiences of each instrument.
*Images: Casio
**This post contains some affiliate links, that if clicked, may generate commissions at no cost to you and which support the writers. 
******
The Modern Vocalist World
TMV (themodernvocalistworld.com) is the ultimate resource site for all things vocal. Sign up to become a member (it's free) and get connected. My blog is themodernvocalist.com/teridanz.
For sponsorship opportunities, contact: info@teridanz.com
**This post contains some affiliate links, that if clicked, may generate commissions at no cost to you and which support the writers.  
Click below for past issues:
Singer's Newsletter #119: NARM 2012
Singer's Newsletter #111: Singing Technique