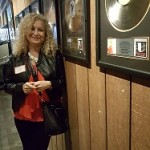 Danz at United Recording 12/17
Latest News & Links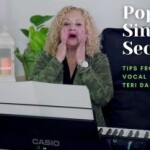 Special thanks to Casio, Sennheiser, and MAC Cosmetics, and Juliet Frew!!
The Rising Voices Charity Initiative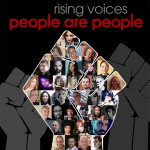 Inspired to rise up to help the Black Lives Matter and justice movement, producer/musician Chris Wirsig started and produced The Rising Voices Charity Initiative, in support of the NAACP Empowerment Program, the Southern Poverty Law Center, and HeadCount.org. All proceeds will be donated to these organizations. The Orchestral-Rock version of Depeche Mode's "People Are People" features 36 awesome artists including Synthpop-Legend Marian Gold of Alphaville, Grammy-winners, acclaimed film composers, and prolific Hollywood session musicians! And yours truly!! BTW, Chris used the Sennheiser HD-558 headphones for the project. I am using the Sennheiser e935 in the video. Check out the project video with all of the musicians (I'm wearing sunglasses and a green jacket, fyi)!  The website is www.risingvoices.net.
ASCAP Workshop 2019: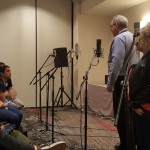 Teri Danz & Neumann audio expert Brian Walker presented Choosing the right studio microphone and microphone technique workshop at the
ASCAP "I Create Music" Expo in Los Angeles, May 2-4th, Beachwood Room,  in Hollywood, CA.
Teri Danz at Grammy Mixer – May 2019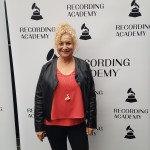 4/2018 *Teri Danz Quotes in Engadget Article
11/2017 *Teri Danz Article on The Famous Company website
4/2017 *In the News! Click here:
VoyageLA Profile Feature Article!
5/2016 – Teri Danz has been renewed as a Graph Tech Guitar Labs Endorsed Artist! Click here for Artist Page
Graph Tech Guitar Labs produce some of the industries' most innovative and reliable nuts, saddles bridge pins, bridges, picks and pickup systems. Through patented methods and proprietary techniques, the Canadian company has designed specific tone and performance enhancements that were once impossible to achieve. After I wrote about them in the NAMM issue #139, I realized out of all of my hundreds of picks, the one pick I use all the time is theirs (TUSQ ST 1.00 Warm)! Awesome! I am honored to be on their roster, and am committed to using (and sharing) only the best of the best products!
Teri Danz – @ West Coast Songwriter's Showcase!
Please join me in Hollywood for a jam-packed Songwriter's Showcase and song contest at Genghis Cohen on Wed, July 8th, 2015 from 8-11pm. This time, I'll be among the judges for the song contest, but am looking forward to performing there soon!
Backstage Magazine – 6-25-15
A big thanks to them for their kind mention in their Theatre issue!
Latest News: 9/2014
Teri Danz Youtube Channel – http://youtu.be/yuPLuKo942A
Subscribe to the channel!
CD Press Release:
http://www.prweb.com/releases/2012/12/prweb10182190.htm  prweb10182190 TD Site
Teri Danz Performance Update
Teri Danz performing on PBS Show with Leeza Gibbons. Thanks to Tommy Mora on guitar (www.tommymora.com)… and a big thanks to Sennheiser for helping me sound amazing. We used their e965 microphone in the spot – check out how great it sounds!!!
For local listings, check here: http://mygeneration.sgewebdev.com/